Nãga dan Garuda
Beberapa saat yang lalu kita sempet membicarakan tentang naga di
milis
. Tapi Ambu menemukan beberapa tulisan ini yang mungkin saja memperluas pikiran kita (atau malah jadi tambah bingung, hihi)
Selama ini yang kita anggap sebagai naga adalah sosok besar bersayap, menyemburkan api dari mulutnya, yang merupakan terjemahan dari 'dragon'. Tetapi ada juga istilah dari bahasa Inggris (kata serapan): Nãga. Kata ini diambil/diserap dari bahasa Sanskrit/Pāli, artinya ular yang sangat besar. Persis seperti lagu permainan anak-anak: ular naga panjangnya bukan kepalang…
Jadi dia besar, tetapi tidak selalu bersayap kan? Meski ular bersayap juga bisa sih. Tetapi kata itu juga mengacu pada ular biasa seperti King Cobra dan Kobra India, yang biasa disebut nãg dalam bahasa Hindi, bentuk female-nya nãgi. Kira-kira nãgi mengingatkan pada apa dalam Harry Potter? Yap!
Dalam mitologi, Nãga si ular besar ini punya musuh besar yaitu Garuda. Kita biasanya menggambarkan Garuda seperti Garuda Pancasila (yang sebenarnya adalah Elang Jawa, Spizaetus bartels.).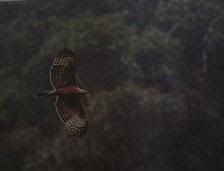 Atau lebih jauh lagi, buat yang suka cerita pewayangan, dalam cerita Ramayana ada Garuda yang besar, Jatayu, yang mencoba menghalangi Rahwana saat menculik Dewi Sinta.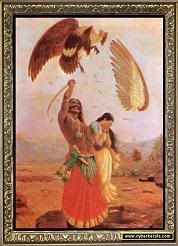 Yang suka JRR Tolkien, Elang Besar Gwaihir dan rekan-rekannya, mungkin bisa mewakili.
Buat yang belum tau (hihi) Garuda itu dilukiskan berwarna emas, wajahnya putih, biasanya sayapnya merah, paruh seperti elang.
Dengan penggambaran seperti itu, agak sulit untuk kita untuk menerima bahwa Garuda itu sama dengan Phoenix. Dalam penggambaran mitologi Hindu, Garuda adalah tunggangan Dewa Wisnu, jadi paling tidak garuda itu immortal. Tapi tidak seperti Phoenix yang digambarkan bisa mati, lalu hidup lagi dari abu setelah jasadnya terbakar, paling tidak selama lima ratus tahun.
Tetapi dalam essay '
Nagini as Horcrux'
penulisnya mengatakan bahwa 'In Malaysian tradition, the natural enemy of the Naga is a phoenix'. Lalu dalam sumber-sumber Wiki, ada yang menyatakan bahwa Garuda berbeda dengan Phoenix, ada juga yang menyatakan Garuda itu adalah Phoenix.
Jadi, Nãga (Nãgini, atau meski tidak semuanya, kaum ular, Sssssslytherin) akan bertempur dengan musuh bebuyutannya, Phoenix (Garuda?). Siapa yang akan menang?
Dalam mitologi biasanya Garuda menangkap Nãga, membunuhnya dengan melemparnya dari udara. Karena kebiasaanya menangkap Nãga dari kepalanya, para Nãga lalu menyiasati dengan menelan batu yang besar sehingga Garuda tidak kuat mengangkatnya. Para Nãga lalu menangkap Garuda dan membunuhnya. Lalu para Garuda mengetahui taktik Nãga itu, mengganti siasat dengan menangkap para Nãga dari ekornya, memaksa mereka untuk memuntahkan batu itu.
Jadi, Nãga atau Garuda?
Sumber Tulisan Wikipedia:
Nãga
Garuda
Gwaihir
Jatayu
Phoenix
Sumber Image
Gwaihir
Jatayu
Elang Jawa --> Kompas